Digital Marketing 101: What is SEO, SEM, and SMM?
The Difference Between the Most-Used Digital Marketing Acronyms
The world of digital marketing is as complex as it is exciting. Young entrepreneurs get into the digital marketing business as freelancers, writers, and web designers. Small businesses use lean digital marketing strategies to grow their presence online and gain new customers. SMBs become massively successful corporations by harnessing the power of enterprise digital marketing. In the modern age, every online entity must have a digital marketing strategy to be competitive in the internet marketplace. However, digital marketing trends are always changing. What works today may be obsolete tomorrow. Furthermore, the popular terms of the month can seem outdated in the next.
Digital marketing terminology can be one of the greatest barriers to the industry for small business owners and marketing novices. The Emergent Digital team has worked with those in the Nonprofit sector and have found a similar trend. Let's face it: we use confusing jargon that very few outside our industry can understand. Below, we delve into SEO, SEM, SMM, which are the most popular commonly-used terms in our field today.
SEO: Search Engine Optimization
Search Engine Land defines SEO as "…the process of getting traffic from the 'free,' 'organic,' 'editorial' or 'natural' search results on search engines." Essentially, SEO is the process of optimizing your website through various methods in order to rank higher for certain relevant keywords on search engines like Google, Bing, and Yahoo. With effective SEO, your website will appear higher on search engine results pages (SERPs) due to its positive relationship to that search engine's particular ranking algorithm.
There are plenty of ways to improve your website's SEO for improved organic digital marketing efforts. Initially, you will want to perform keyword research to learn what phrases your customers are likely to type into search engines like Google. You will then want to create engaging, original content for your various web pages that include these highly-searched keywords. Your website's efficiency, architecture, and mobile optimization are other factors that are well-known to be critical in search engine optimization. Finally, other more nuanced factors like the regular posting of relevant content, effective metadata, and the correct alt-tags will provide a greater boost to your site's performance related to SEO.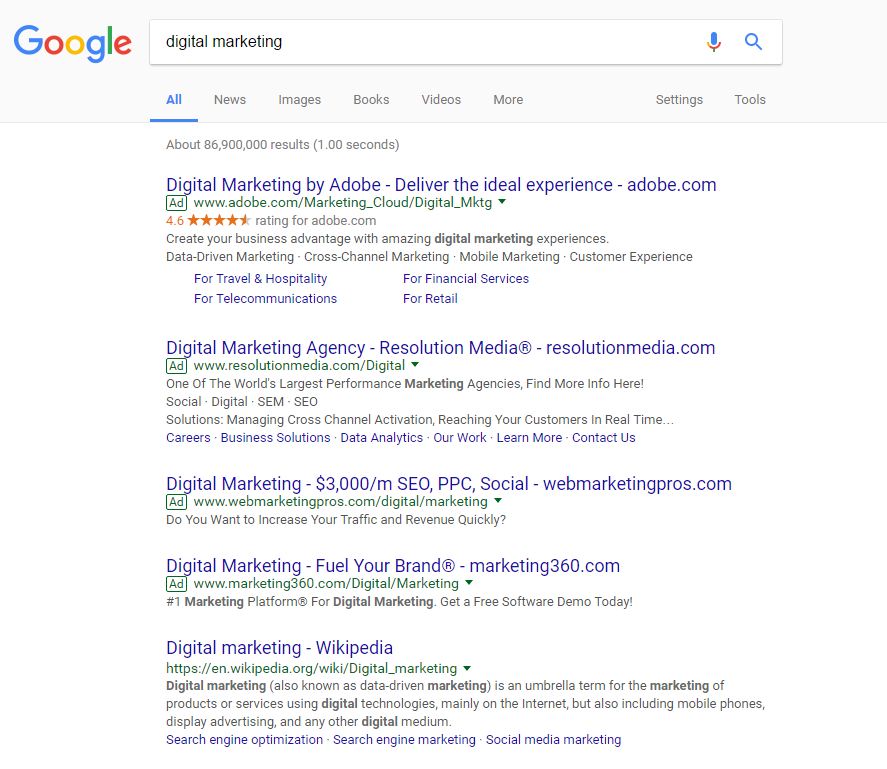 SEM: Search Engine Marketing
Search engine marketing (SEM) is related to SEO in that they both deal with digital marketing outreach on search engines like Google and Bing. However, SEO typically refers to internal, organic website optimization while search engine marketing is commonly known as advertising through a paid media budget. While SEO will help your website traffic increase through natural algorithmic means, SEM earns traffic through the process of purchasing ads on search engines. In the image to the left, you will see a search engine results page that is the result of typing the keyword "digital marketing" into Google. The top four results have a small green box that says "ad" underneath the primary title link. This signifies paid advertising, or search engine marketing, where a brand or business has paid Google to display their ads at the top of the page for that specific keyword.
There are many targeting factors that come into play in this form of digital marketing. Through search engine marketing on Google Adwords, you can choose the location and several other factors to improve the efficiency of your paid advertising campaign. This form of SEM is often referred to as Pay-Per-Click (PPC) advertising.
SMM: Social Media Marketing
SMM refers to both organic and paid digital marketing efforts on social media networks like Facebook, Twitter, and LinkedIn. Social media marketing encompasses many different activities and many consider this to be the future of digital marketing. While social media channels become the hub of activity online in the modern age, this is where consumers engage each other in conversation. Furthermore, it's also the nerve center of business and brand engagement for large subsets of the population.
Having a Facebook page is almost necessary for digital marketing efforts in the current online marketplace. Having multiple social media accounts on the right networks is even better. Moreover, posting relevant content regularly and building an engaged audience of followers can help grow your business immensely. Finally, paid social media campaigns have become immensely effective, even rivaling the similar efforts made on search engines.
Any questions? Comments? Please let us know by leaving a message below! If you need help with SEO, SEM, or SMM digital marketing, please contact the experienced team at Emergent Digital today.