How to Create a Killer Facebook Business Page
5 Insider Tips for Setting Up a Business Page on Facebook
Facebook truly dominates the social media landscape. It's been just 13 years since Mark Zuckerberg and Co. founded "The Social Network", and many of us today can't imagine life without it. Creating a Facebook business page can do wonders for your brand. There are currently 1.86 billion monthly active users on Facebook, nearly a third of the total population of planet Earth. Think about that for a moment. Almost 1/3 of our entire species has logged activity on a single website in the past month. Astoundingly, 1.23 billion of these users log in to Facebook every single day – about 66 percent of total users. Facebook was the first great social media network to become a household name, and it's still king.
Many users log onto Facebook to keep up with friends and family, but business has obviously become a major aspect of this social channel. Facebook is where users most often and actively engage with professional brands online. There are now 40 million Facebook business pages and three million active advertisers on the social channel, the majority of growth coming from small business. Creating a Facebook business page is a cost-effective way to reach a large audience, increase your online presence, and drive website traffic. If you're just starting out, here are 5 easy ways to set up an awesome Facebook page for your business.
1) Define a Target Audience for Your Facebook Business Page
One of your first steps as a business owner is identifying your ideal customer. Whatever service you produce or service your company offers, you must define your target market. Before creating a new facebook business page, you should know the age range, education level, and other demographics of your typical customer. Who wants or needs your business? What are their interests, goals, and lifestyles? By understanding who you are communicating with, you can create a Facebook page tailored to their likes and dislikes. You can engage your audience in a way that conveys your message authentically and clearly.
2) Use Your Website's Keyword Research for Social SEO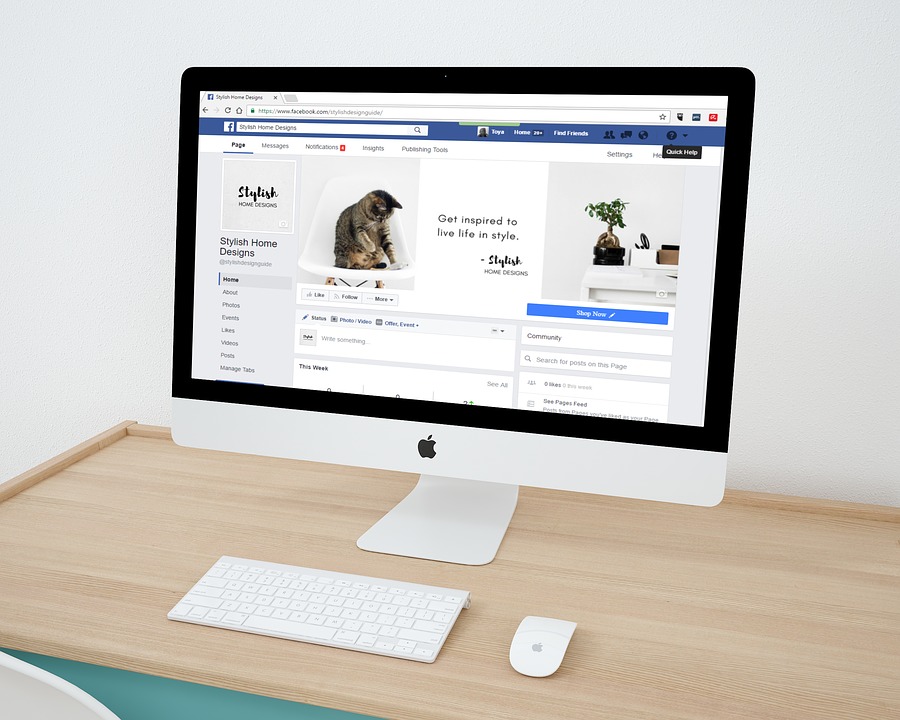 This first tip for creating your facebook business page assumes you have already launched a website and performed thorough keyword research. If you haven't already done this, you may want to start there before thinking about Facebook. Nonetheless, your Facebook business page should include an informative written description of your brand or company using highly-searched relevant keywords. Your potential customers will type in certain words to search for products or services on Facebook. If you use those words often in your profile and posts, you will be more likely to be found by your target audience.
3) Use the Correct Image Sizes for Your Facebook Business Page
Using the wrong image size for your profile picture or cover photo is the quickest way to create an unprofessional Facebook page for your business. Your two main profile images should look perfect on any device, as this is the first impression you make on new visitors to your page. Your profile photo and cover image should be high-resolution PNG or JPG files for optimal appearance. For quick reference here are the ideal image dimensions for Facebook business pages in 2017:
Cover photo: 851 px wide by 315 px tall

Profile image: 180 px wide by 180 px tall

Highlighted image: 1200 px wide by 717 px tall

Shared image: 1200 px wide by 630 px tall

Shared link thumbnail image: 1200 px wide by 627 px tall
Keep in mind that these image dimensions sometimes change with new Facebook updates, but the current dimensions are always Google search away.
4) Fill out Every Possible Field in Your Business Profile
From your short profile description to the date your business was founded, you should make your Facebook business page profile as complete as possible. Every empty field is an opportunity to inform your customers about your brand and operation. A well-crafted and complete profile creates transparency, looks professional, and endears you to your audience. Facebook search algorithms favor business pages with thorough, accurate information as well. Finally, every field in your business profile that can be filled with original content increases the number of keywords you can use to attract your target market.
5) Post to your Facebook Business Page Regularly
Once you have a killer Facebook business page set up with keyword-rich content and aesthetically pleasing images with the correct dimensions, it's time to engage. It's not enough to have all your profile information filled out anymore. You don't need to post on Facebook every day, but a few times a week is essential for drawing a crowd. Organic reach has plummeted on Facebook, but paid media does exceedingly well when executed correctly. However, it all begins with consistent posting with engaging content. Once your Facebook business page is regularly posting content your audience finds valuable, you can begin advertising to the largest social media audience in the modern age.
Did we miss any essential tips for creating a Facebook business page? Tell us by leaving a comment below! If you need help making or managing your social media, contact the Emergent Digital team today.