How to use the Slack App for Seamless Communication
Slack Apps, Bots, & Integrations: The Ultimate Starter's Guide
By Ryan Crockett – June 10, 2016
What is Slack? How do I use the Slack app effectively within a team? Why has one messaging application seem to have taken business world by storm? Many are asking these questions as Slack's skyrocketing popularity and widespread use reaches unprecedented levels. The Slack app is utilized by more than 3 million active daily users, 60,000 teams, and an eye-popping 77% of the Fortune 100. Just named 'Company of the Year' by Inc.com, Slack is actually causing a significant decline in email use and has been hailed as a model of team communication for the 21st century.
So… what sets Slack so far apart from its competitors? Why are users spending an average of 320 minutes each week using the application? What makes this messaging app so special?
The Multitude of Customizable Slack App Integrations
Slack is a highly customizable, deeply integrated communication app like none we've ever seen. Their platform works flawlessly with a diverse array of currently popular software, unifying them in one hyper-convenient interface. The list of over 900,000 Slack app integrations is truly staggering, made all the more impressive when you consider their popularity. Google Drive, Skype, MailChimp, Twitter, and Dropbox are all included in the list of 280 official Slack apps, just a fraction of the 4,000+ developed for the interface so far.
Beyond the exhaustive list of Slack apps available for use within the interface, there is near-endless opportunity for customization within the interface itself. A team or individual can modify and customize Slack's internal display, desktop and mobile notifications, search functionality, and visual theme in a variety of ways. These customizations make for a messaging experience tailored specifically for the individual. These modifications can then be altered for each group or "channel", the term used for different conversation hubs within the user's Slack account.
Slack Channels: Open, Private, and Direct Messaging

Organization or team conversations are organized by channels in the Slack app, which can be a used by a business, department, or group of friends who prefer the seamless software over email. Channels can be "open" for public access or "private" for internal use by a specific set of users.
Finally, "direct" messaging is even more secure than private groups, used for one-on-one chats only accessible to the users involved in the conversation. This simplicity and versatility of communication transparency is one of Slack's most attractive features, and a major reason for the app's popularity.
Notifications: How the Slack App Cuts out Noise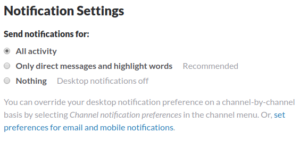 All available Slack apps allow for customizable notifications, which is a big reason why it's being called the "end of email" in the business world. Within your Slack account, you can be notified of a new email, text message, or modification to a Drive document without opening multiple tabs!
Users can choose to receive all notifications with or without a text message, only receive direct message notifications, turn off all notifications, or choose a daily "do not disturb" period where notifications are deactivated.
Slack Search: Find Conversations and Files with Ease

The Slack app boasts one of the most impressive internal search functions we've ever seen. One search bar allows users to scan all conversations, notifications, and files contained in their Slack archive, which can be a truly exhaustive amount of information.
From the Slack app, everything in your team communication history is searchable. Slack search results are typically intuitive and accurate as well, like having a Google browser for your own personal chat archive.
Slack App Platform Versatility and Instant Mobile Sync
There are several desktop and mobile apps available for downloading Slack the app, all of which are highly rated, user-friendly, and feature an ergonomic interface. Furthermore, the different versions of Slack are instantly synced across all platforms: all new files, chats, and notifications are immediately reflected on your personal computer, laptop, or mobile device.
Slack Desktop Apps
Slack Mobile Apps
Slack App Pricing: Free and Paid Account Comparison
The Slack app will always be "free to use" for teams of any size, but there are noticeable differences in the functionality of free and paid accounts. There are currently three versions of Slack available: free, standard, and plus, with the enterprise version for large companies in development for release in 2016. Paid plans are $8 per month for the standard version and $15 a month for the "Plus" paid plan, and these prices are per active user within each team.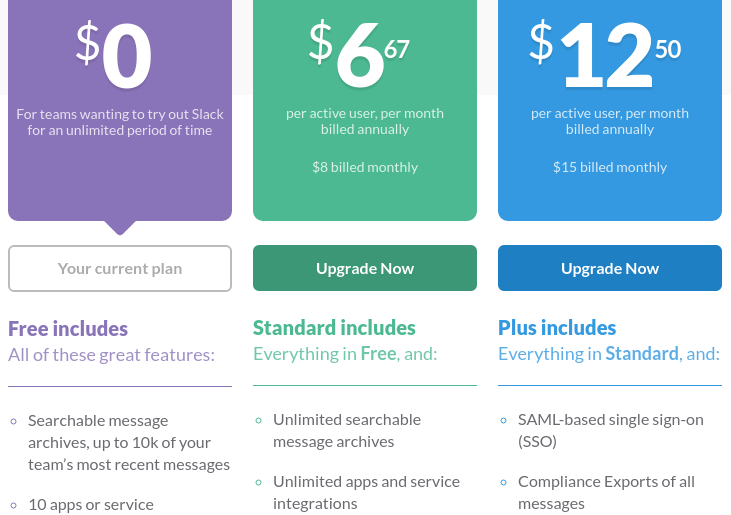 "Standard" is designed for small teams who use Slack as their primary communication app and includes:
Unlimited searchability (free is up to 10k of recent messages)

Unlimited app integration (free is limited to 10)

10GB cloud storage for each team member (free is 5GB for whole team)

Group calls (Free is only 2-way)
"Plus" is for larger companies and organizations who need SSO, compliance reports, and guaranteed uptime. While the free version is great for personal use and trying out the Slack app, the paid standard version is necessary to use the software for business in any meaningful way.
Slack for Nonprofits, Education, and Social Good!
The founding principle of Emergent Digital is using technology and digital marketing for social good, and we love to work with anyone making our world a better place to live. Slack is one of those companies, a wonderful resource for nonprofit organizations who want to improve team communication. Slack offers an 85% discount on all paid plans for nonprofits and organizations in the education sector. To find out if you're eligible for Slack's program for social

good, check out the following resources:
Slack Bots
Slack Bots are virtual assistants that help users with everything from scheduling and task management to finding the perfect emoji for any given situation. "Bots" are essentially custom Slack apps that can be programmed for individual team use.
Slack is very friendly to developers who want to create new bots for the community, and the Slack API resource hub is a very helpful guide to getting started. A huge wealth of customizable development is possible within the Slack app including custom team integration and independently crafted official slack apps. With so much digital versatility in design, the future seems limited only by the innovative and creative ability of its users.
Slack: Shaping the Future of Business Communication
Slack has already changed the way we communicate in the business world, bringing individually preferred software together in a singular messaging interface that could very well mean the end of email altogether. A recent poll of Slack app users across the globe found exceptional satisfaction with the software in improving team communication:
Teams using Slack report an average 48.6% reduction in internal email use.

32% report increased productivity

80.4% reported increased transparency

79.0% report better company culture
We use Slack effectively here at Emergent Digital, and see immense potential with the app that's truly molding the future of online communication. Want to know more? Leave a comment, send our team a message, or explore the helpful links below!
Slack – Helpful Links for Getting Started
Slack on Social