SMX West 2016: Innovation and Google Dancing with SEM Elites
Emergent Digital Founder & CEO Dave Roth Speaks at Search Marketing Expo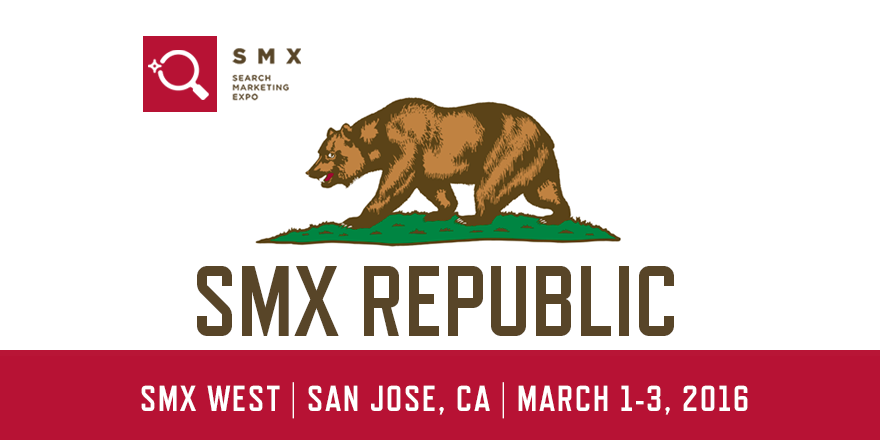 By Ryan Crockett, March 15, 2016
SMX West, the premier search engine marketing conference on the West Coast, took place earlier this month as the best minds in digital marketing addressed an enthusiastic crowd in San Jose, California. Produced by the renowned SEM authorities at Marketing Land and Search Engine Land, the high-spirited affair attracted online advertising professionals from all over the country. Among the many search marketing experts to present at SMX was David Roth, founder and CEO of Emergent Digital.
Dave is a respected figure in search marketing and SEO circles, having started his career spending several successful years as an early search engine adopter in the heart of Silicon Valley. He has since become an accomplished speaker on the marketing conference circuit and stopped by to share a few of his favorite stories from SMX West 2016.
Featured SMX West Speaker Dave Roth Discusses Online Advertising Attribution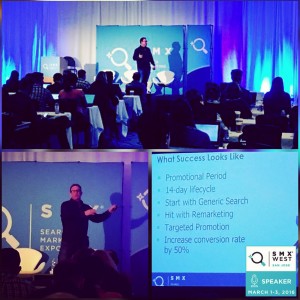 Our fearless leader was once again a featured speaker at a high-profile advertising expo, joining colleagues Soren Ryherd of Working Planet and Adam Proehl of NordicClick Interactive on stage to discuss attribution in a panel moderated by Brad Geddes, founder of Certified Knowledge. The subject of attribution has been a hotly-debated one in the past few years, as search marketers must overcome much greater challenges in tracing leads and conversions through collected data and well-tuned analytics. Brands can easily throw a ton of money into online advertising and produce decent results, but without the right attribution model for analysis and review, it can be hard to tell the difference between effective tactics with high ROI and those that drain your budget without results.
The lively crowd in attendance (in spite of the early 9:00 a.m. start time) was engaged from start to finish as Dave and his fellow influencers conversed on stage at SMX West, taking questions from the audience once their presentations had concluded. With a flurry of tweets mentioning Mr. Roth, the presentation, and his marketing agency for social good, it's safe to say that those present felt informed and inspired throughout the SEM exhibition on attribution. Well done, Dave!
Epic Google Dance Party at their Mountain View HQ, The "Googleplex"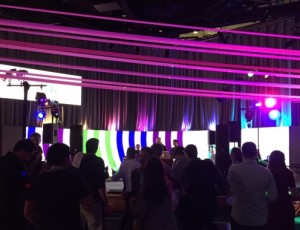 Now, onto the weird and amazing fun that defined SMX West 2016.
Once the sun set into the distance over the Pacific and day two was done, the real party began over at Google Headquarters. The night was a joyous occasion of laughter and merriment as the "Google Dance" was officially in full swing. SEM presenters let loose and toasted to the future of digital creativity and search marketing while attendees showed off some sweet moves on the dance floor. Live music blared over the sound system and alluring neon hues illuminated the Googleplex in a frenzy of fun that became a top trending topic on Twitter. As #GoogleDance bombarded the social media airwaves with photos and video of elated guests having the time of their lives, it was apparent that SMX West 2016 was going to be remembered as a smashing success.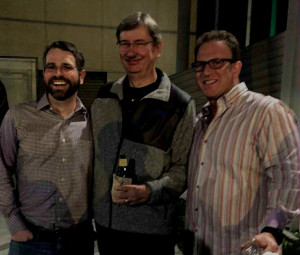 SMX West was marked by appearances by several big-name "celebrities" in the search engine marketing community this year. One of these highly respected thought leaders was Matt Cutts (@mattcutts) of Google, who gave an impromptu visit to the Googleplex dance party. During his time there, the esteemed Google guru was all smiles as he met with old friends and long-lost colleagues after years apart. Dave was ecstatic to meet Matt again after so long, and commented that he was just as approachable, friendly, and genuine as ever.
Reuniting the Search Engine Marketing Crew, Reconnecting with Great Friends
When I asked the man behind Emergent Digital his favorite SMX West experience, he quickly replied that reconnecting with old friends and making new ones was a wonderful benefit of speaking at the event. In the search engine marketing, SEO, and digital advertising industries, there is a tight-knit group of professionals from the Bay Area who were all connected when the business was first starting to take shape. Early pioneers in online marketing who knew each other and worked together to form a now monolithic field of study and interest, an innovation in advertising that has become its very essence in the modern era of digital business.
Dave was one of these respected luminaries who was there when it began, and at SMX West, he enjoyed reconnecting with the rest his fellow trailblazers most of all.