This Week in Social Media: Trending Digital News
Instagram adds Account Switching, Facebook's Private Comment Replies, and #RIPtwitter
By Ryan Crockett, February 8th, 2016
February has started off brilliantly for the Facebook-Instagram Zuckerberg colossus, and disastrously for their main competitor on the social media scene. While the former has added serious functionality to their mobile apps and web interfaces, the latter is in a tailspin as their perceived demise was the #1 trending topic on their own website. Ouch. Twitter has never been the friendliest forum, their users have been known to hurl vicious 140 character-long rants and profanity-laced epithets back and forth for the entire all to see, but #RIPtwitter is just cold.
The Super Bowl was a snooze-fest that lit up the social media airwaves with uninspired celebrity endorsement ads and a victorious Peyton Manning giving Budweiser (really?) the most awkward public shout-out of the year. The mountain of money they threw at him must have taken an army of Clydesdales to move.
In short, let's move on to more interesting news from the wide world of social media.
1 – Instagram lets Users Switch between Multiple Accounts on their Mobile App
At long last, the time has come. Arguably the most popular organic social media marketing platform today, Instagram has had one critical API flaw that gave power users and digital marketing professionals headaches for years. To switch between multiple accounts in the past, you would have go into to your profile settings and log out completely before logging in with another profile.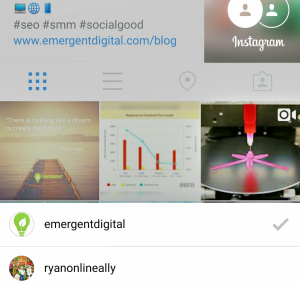 Not only was this a major hassle that Facebook and Twitter solved years ago, you would miss all real-time notifications for alternative accounts when not logged in. It was a dark time for avid Instagrammers, but our day has arrived! Unveiled in Instagram's latest blog post and subsequent announcements on their social media accounts, they outline the simplicity and efficiency of the new account switching feature:
1 – On your Instagram profile, click "settings"
2 – At the bottom of settings, click "add account"
3 – Enter login information for your other profile
All done! Long-tap the new profile picture button on the bottom right of the app to switch between accounts with ease.
2 – Facebook adds Private Message Replies to Public Comments on Business Pages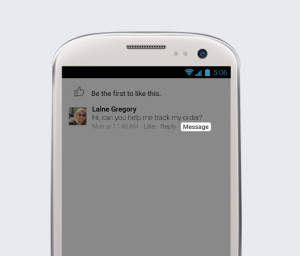 While not a redefining moment like switching accounts on Instagram, this is a pretty cool feature for Facebook business pages. Until now, all user comments have been publicly displayed on a brand's page for the entire digital world to see. If the comment was incendiary or merited a sensitive response, a page manager would still be compelled to reply in the same public manner. This has resulted in quite a few overt altercations with angry users in the past, which has, at times, caused serious damage to a brand's reputation, warranted or not.
There was a subtle need for Facebook to address this issue for business pages, and they've done so beautifully. Page managers can respond publicly to a comment like they always have, but they can also message the user privately at their discretion. When a comment needs a private response, brands can click on "message" underneath the post and a direct chat session will be opened. This ensuing conversation will include a link to the comment for quick reference and convenient ease of use.
Well done, Facebook.
3) Twitter has one of the Worst Weeks in the History of Social Media News
We don't want to rub salt in the wound, as their users have seen to that already, but things are not great at Twitter right now. The #RIPtwitter trending hashtag may have hit the company unnecessarily hard over the past week, but it's hard to ignore the brutal stretch of news we've seen over that time period.
Twitter's terrible tour this week started Sunday as CEO Jack Dorsey announced via Tweet that several high-ranking executives (including their heads of product and media) were jumping ship and had "chosen to leave" their positions with the company. In the midst of this big shakeup, Twitter posted atrocious earnings in Wednesday's quarterly report and then closed the weekend at a record low as shares dropped a whopping 5% to $14.73. Finally, there was widespread user backlash following the announcement of plans to make major changes to Twitter's timeline and interface.
We've all had weeks we'd like to forget, and this is one for the books. However, we will believe #RIPtwitter when it happens, as the social media network is still a digital giant with a diverse and active user base.
Pick yourself up and dust yourself off Jack, you're not dead yet.